The Seller's Roadmap
Meet with a Real Estate Professional
There's no commitment required on your part for the initial meeting. It will be educational and help you identify your next steps.
Establish a Price
Your agent will provide a market analysis, which will help you set an asking price.
Strategic Pricing
As difficult as it may be, it's important to review the market analysis and consider your home objectively.
Prepare Your Home
View your home through the eyes of the buyer and ask yourself what you'd expect. Your agent will offer useful suggestions.
List it for Sale
When everything is in place your agent will put your home on the open market. It's critical you make it as easy as possible for potential buyers to view your home.
Showings
Potential buyers may ask to see your home on short notice. It's best if you can accomodate these requests, you never want to miss a potential sale.
Offers and Negotiation
If everything goes well, a buyer (and most often the agent who represents them) will present your agent with an offer.
Closing an Offer
Your agent will present the benefits and risks of each offer. You will have the opportunity to either accept or counter any offer based on its merrits.
Under Contract
At this point you and the buyer have agreed to all of the terms of the offer and both parties have signed the agreements.
Final Details
While under contract, the buyer will work with their mortgage provider to finalize the loan and perform other due diligence.
Inspection
The buyer will usually perform a physical inspection of the home. They may even ask you to make certain repairs. Your agent will expail all of your options regarding the inspection.
Closing
This is the transfer of funds and ownership. Depending on when the buyer moves into the home you will need to be all packed up and ready to move.
CONGRATULATIONS! YOU'VE SUCCESSFULLY SOLD YOUR HOME!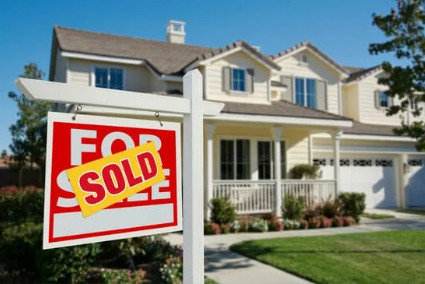 Testimonials
" It was a great pleasure to work with Darryl. He is very helpful and knowledgeable of the real estate market and his advice is always appreciated. Darryl's professionalism made the purchase of our condo a seamless process. "
- Margaret K.
" Darryl is very thorough and helpful, very much appreciated. "
- Rural Business Network, Clinton
" I am proud to call Darryl a Mentor and Friend. His wisdom, insight and dedication to helping individuals in their life and business is unparelled. When Darryl speaks, his words are compelling and engaging with a depth and breadth that leaves you wanting more. Anyone looking for a Visionary Leader need look no further. "
- Mike Kennelly Royal LePage Signature Realty, Mississauga
" Competent professional attention to detail. Makes you feel comfortable with recommendations. "
- Dr. Douglas B. Palmer
" Darryl Mitchell, Yes he is the best !! A great sales rep, start to finish he was a great help. There is a difference! Call Darryl Mitchell. "
- Dana Bernier
" Works hard and is conscientious,keeps in touch and gets the answers you need. "
- The New Grapevine Goderich
" Very helpful and informative. "
- J.R.
" You know you are in good hands when you choose Darryl as your realtor. Years of experience, integrity, great advice, professional! He ticks every box, I couldn't recommend him enough. He's been in the business for a long time and will always steer you in the right direction. He's been my realtor for 20 years. "
- Michael L.
" My husband and I are very pleased with the outcome of our listing with Darryl Mitchell as agent. He achieved our asking price for which we are grateful and none of this took very long. Cheers. "
- Lois Stouffer
" Darryl was absolutely fantastic with the pursuit of our home. Ebon and I were buying our first home, and did not know a lot. Darryl's patience and guidance helped us make the best decision for our family and take a big jump forward in establishing our lives. He was always available to us to answer questions, as well as the weekend and late night home visits. He walked us through all the paper work and ensured we understood the process and every step. He gave us his honest opinion around the value of homes we were considering and encouraged us to make the right decision. He has followed up with us post close as well. I would recommend Darryl to anyone who is looking for a home. "
- Brett Hickey
" Darryl is always on top of the market. He's ready to serve with a high level of experience, professionalism and integrity. Call him you won't be disappointed. "
- Paul Garrett
" Working hard for the customer. "
- Peter Hyde
" We couldn't have made a better choice. Darryl did an outstanding job. Excellent communication. Informed, knowledgeable, courteous and honest. If I text or emailed Darryl, I had an answer within minutes. Always looked out for our best interest. If you don't get Darryl to represent you, you're not getting the best representation. Darryl got the job done for us. Give him a call, you'll see what we mean. "
- Andrew M.
" Darryl is an honest hard working agent! He is willing to go above and beyond for his clients. I highly recommend him to anyone looking in the Goderich, Lake Huron area. "
- Cory
" Goderich's 2021 Local Business Person Of The Year Revealed!After sorting through more than 86,000 votes & testimonials from our members, we're delighted to unveil the local winners of the most popular (and competitive) contest we've ever had. All winners were singled out for going above and beyond to help peers and their communities power through the COVID Era. In Goderich, Darryl Mitchell of Darryl Mitchell Realty Inc. is the 2021 Local Business Person of the Year!Please offer your hearty congratulations and share this news with your entire community. And thanks again for participating in this exciting contest. "
- Chuck Casto
" Darryl ran an exceptional realty office while in Chatham, Ontario. "
- Dan Gagner
" We had Darryl with a couple of purchases. We recommend him. "
- Vlorat Vitija from Facebook
" No surprise here. Darryl is... Professional, courteous, friendly... Everything done top notch. Highly recommended! "
- Lance White on Linkedin
Previous
Next